Star Theater and Kingbanana Present
SHEER MAG
Wed
April 17, 2024
( Doors:

7:00 pm

)
SHOW:
8:00 pm
PDT
Star Theater
13 NW Sixth Avenue, Portland, OR
All Ages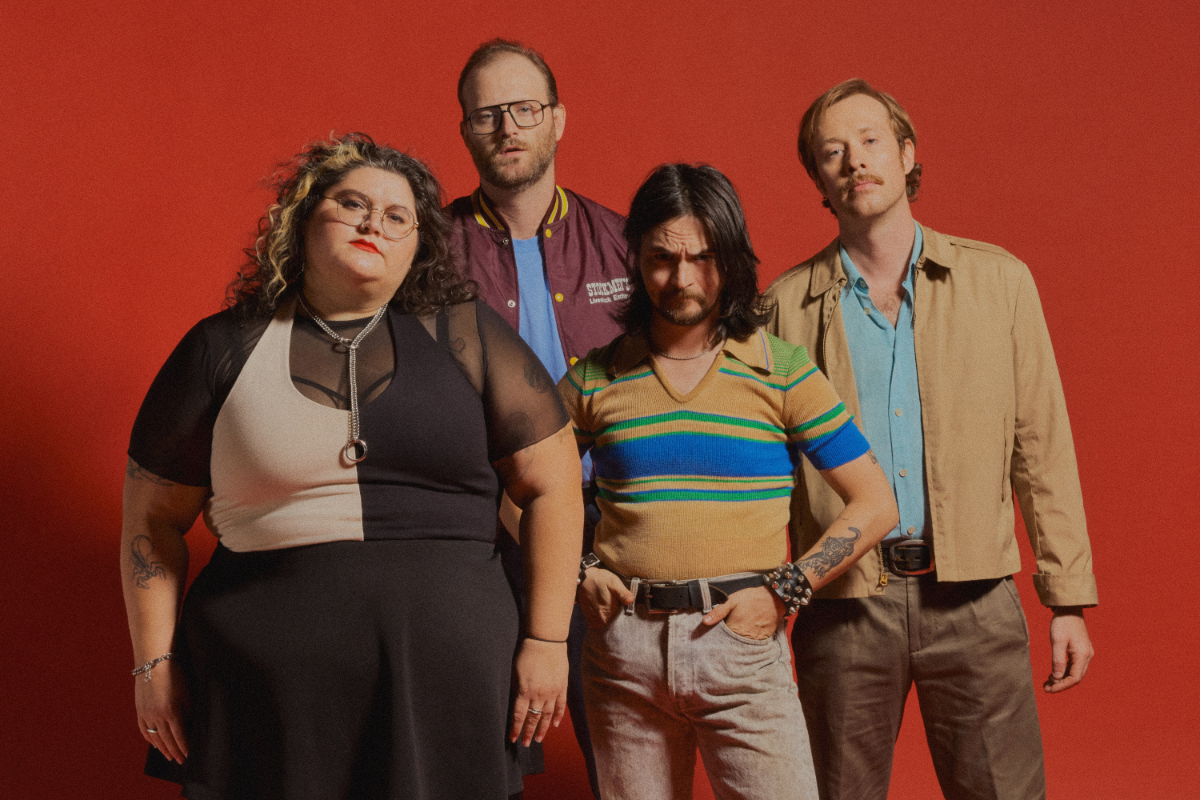 Underlying every great record, every career-defining work of art, is a certain ineffable, increasingly rarified quality: unity of vision. Great songs need not announce their greatness: their marriage of idea with action, soul with sound, appears as something which is naturally effortless, unforced—they are what they are because they have no choice but to be. On Playing Favorites, Sheer Mag's third full length and first with Third Man Records, this precise, matured clarity of vision is put on full display. Over the course of the past decade, Sheer Mag have labored to carve out a discernibly singular position within the canon of contemporary rock: toggling with ease between the refined flourishes of a "connoisseur's band" and the ecstatic colloquialism of populist songwriting—yet displaying no strict loyalty to either camp—their sound, while oft-referenced, is unmistakably and immediately recognizable as theirs alone. With Playing Favorites, Sheer Mag have capitalized on a decade's worth of devotion to their own collective spirit—a spirit refined in both the sweaty trenches of punk warehouses and the larger-than-life glamour of concert halls—emerging with a dense work of gripping emotions, massive hooks, and masterfully constructed power-pop anthems. This is the record the Philadelphian rock and roll four-piece has always been destined to make.
Playing Favorites expands with a sense of undeniable vitality, buoyed by rock and roll's singular capacity to channel a relentless compassion for human life. While at times marked by an intensified sense of melancholy, this newest offering takes stock of the confusing flow of daily life without moralizing, refusing to fall into antagonistic cynicism. Sheer Mag leans into the chaotic thrall of city living, of a life subdivided by the jagged highs and lows of bars, parties, and nightlife culture, with sweetly empathetic remove. The chemically-saturated swing of disco rhythms, crooning earnestness of heartland Americana, and boisterous theatrics of capital-G-and-M Guitar Music become strangely familiar bedfellows. This music is complex, not complicated. As lead guitarist Kyle Seely puts it, "I don't believe people should put on a record and have to work to enjoy it." Sheer Mag neither pander towards the studied pretensions of the rock historian elite nor dilute their approach into something more blankly palatable to a commercial audience. Instead, they have their eyes set on that ever elusive third option: those who just get it. If you build it, they will come.
Sheer Mag
Sheer Mag return with their sophomore album, A Distant Call. They're still writing about surviving our current hellscape, but this time around, the politics get extra-personal. The album verges on being a concept piece, and the protagonist resembles frontwoman, Tina Halladay herself. The songs document a particularly alienating time in her life when she was laid off from a job. Broke and newly single, her father passed away, leaving her with more wounds than felt possible to heal.

It's heavy power-pop so sleek it gleams. "We've been waiting to write these songs since we started the band and we were able to take these experiences and build a story out of them," Halladay says. A Distant Call makes an argument for socialism on an anecdotal level. We're talking about how late capitalism alienates and commodifies whatever is in its path without using the term 'late capitalism.'" Palmer and Halladay's new approach to lyricism extended to the recording process, too. Once the Seely brothers had laid down the tracks, Halladay recorded vocals with producer Arthur Rizk (Power Trip, Code Orange).