URAL THOMAS AND THE PAIN, THE BUILDERS AND THE BUTCHERS, HOPELESS JACK, ADAM PASSI AND DJ COOKY PARKER
Sun
December 31, 2023
( Doors:

8:00 pm

)
SHOW:
9:00 pm
PST
Star Theater
13 NW Sixth Avenue, Portland, OR
Ages 21 and Up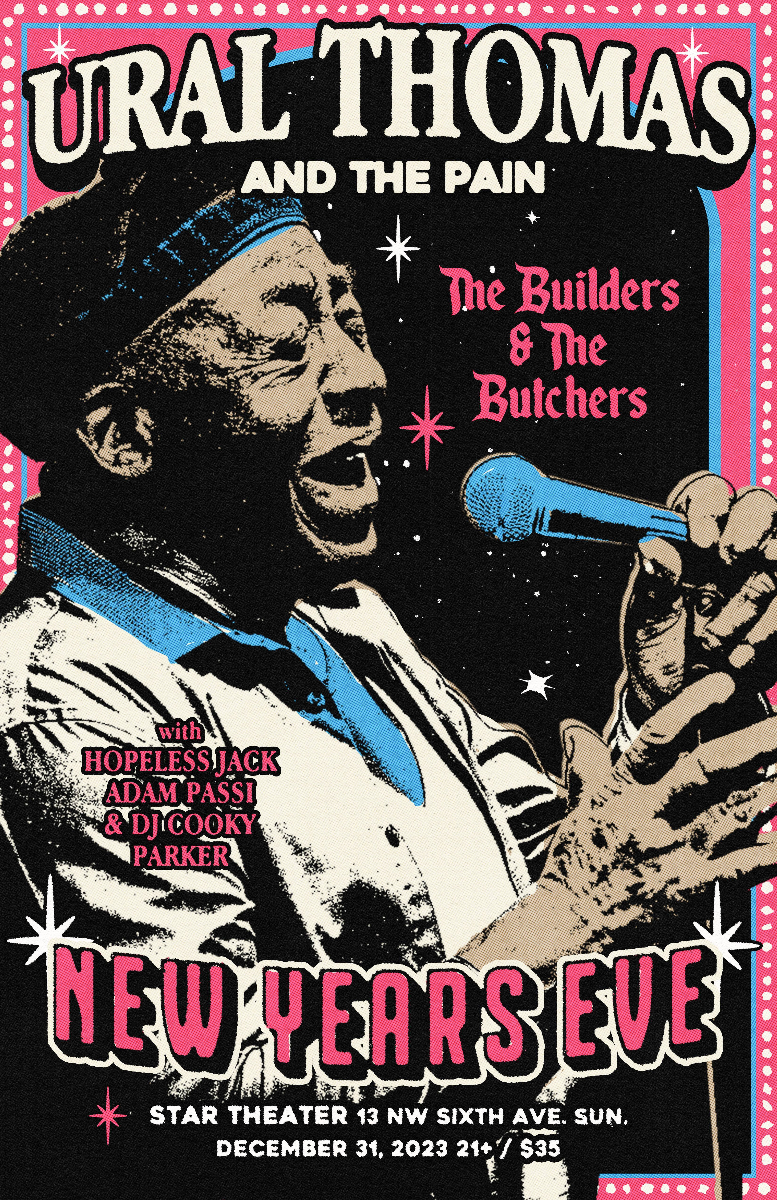 Walking through the residential heart of Portland's Mississippi district you'll find a charming wooden house under the overcast Oregon sky. This local landmark is the home of soul legend Ural Thomas, built by hand with found materials decades ago. The basement is overflowing with musical equipment. When you walk down into the room you may see Portland's Soul Brother Number One at the table chuckling, telling stories and jokes, and espousing his personal humanist philosophy obtained from 82 years of unfathomable experiences. He's often joined by either his generations of biological posterity or the adopted family that is his band, The Pain. You may also find this infinitely magnetic personality ripping through a cover song at full volume or working out a new original with his loved ones.
Though Ural Thomas is widely recognized as one of the most exciting singers remaining from the original soul era, and an active musical institution for over 60years, his band, all decades younger, are treated as equals. The Pain are no backing band, but rather a well-oiled tightly-knit musical aggregation that's spent the last eight years with Thomas developing a unique sound of its own.
Ural Thomas & The Pain
Ural Thomas performed in the 1960's alongside James Brown, Otis Redding, and Stevie Wonder. Straddling the line between hot soul shouter and velvety-smooth crooner, Thomas released a few singles in the late 60's and early 70's; most notably "Can You Dig It", which featured backing vocals from soul luminaries Merry Clayton, Mary Wells and Brenda Holloway. Thomas played over forty shows at the legendary Apollo Theatre in Harlem before turning his back on Music and headed home to Portland, Oregon.
Rekindling his love of music in 2016 he had a career-covering album out on Seattle's Light in the Attic Records. Assembling an all-star group, The Pain, featuring members of The Decemeberists, Cherry Poppin' Daddies, Blitzen Trapper and more, Ural Thomas has finally released his debut full length album "The Right Time" on Tender Loving Empire Records.
The Builders and the Butchers