Soul'd Out & Star Theater Present
Devin the Dude
with
Tue
July 26, 2022
( Doors:

8:00 pm

)
SHOW:
9:00 pm
PDT
Star Theater
13 NW Sixth Avenue, Portland, OR
Ages 21 and Up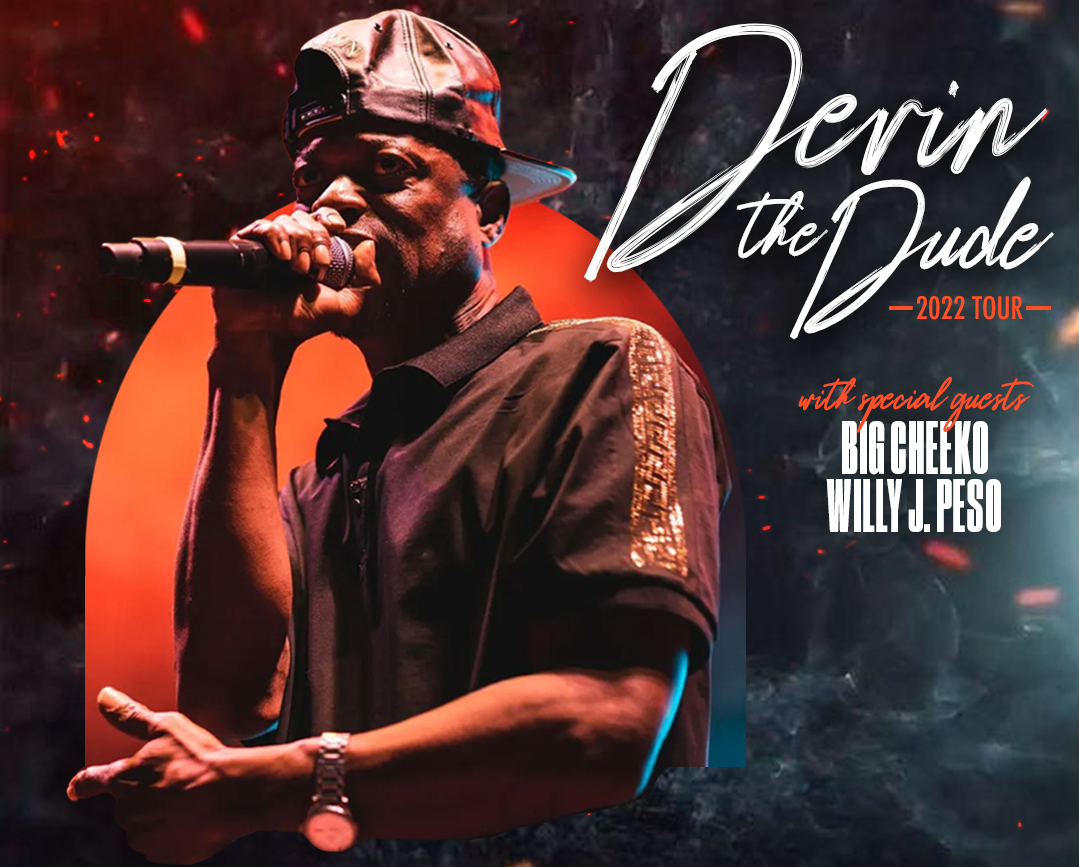 Devin The Dude with Big Cheeko, Willy J Peso, Kahlil Khalil
$25.00
Doors: 8:00pm // Show: 9:00pm // Ages 21+.
Devin The Dude, Big Cheeko, Willy J Peso , Kahlil Khalil

Devin The Dude: After forming the Odd Squad (later known as the Coughee Brothaz), the group signed to Rap-A-Lot Records. The label is notable for being the home of hip-hop artists such as Geto Boys, Scarface, and Too Much Trouble. Copeland moved on to become part of Scarface's Facemob before going solo in 1998. Copeland has released ten solo albums: The Dude (1998), Just Tryin' ta Live (2002), To tha X-Treme (2004), Waitin' to Inhale (2007), Landing Gear (2008), Suite 420 (2010), Gotta Be Me (2010), One for the Road (2013), Acoustic Levitation (2017) and Still Rollin' Up: Somethin' To Ride With (2019). He also made a number of guest appearances, including on Dr. Dre's "Fuck You" in 1999, De La Soul's "Baby Phat" in 2001, Slim Thug's "I'm Back" off of Boss of All Bosses in 2009, Gucci Mane's "Kush Is My Cologne" of off The State vs Radric Davis in 2009 alongside Bun B & E-40, Tech N9ne's "After Party" in 2010 off of The Gates Mixed Plate, and Young Jeezy's "Higher Learning" off of the late 2011 album Thug Motivation 103: Hustlerz Ambition.

In 2008, he ended his 15-year relationship with Houston-based Rap-A-Lot Records after he decided not to renew his contract. Later that year, he signed with indie label Razor & Tie. Devin is currently being distributed by E1 Entertainment, formerly Koch. In 2013 Devin starred in the stoner comedy Highway 420, in which two pot smoking buddies go on a quest to find the best bud in the country on the legendary Highway 420. The soundtrack featured songs by 2 Chainz, UGK, Smoke DZA, Tha Dogg Pound, Slim Thug, Curren$y, David Banner, Asher Roth and more. On June 24, 2013 Devin announced that his eighth studio album would be titled One for the Road and be released in September 2013. It would later be confirmed for an October 8, 2013 release.

The New York Times has called him "A brilliant oddball with a spaced-out flow." In addition, he has been called "Rap's best-kept secret" and "Your favorite rapper's favorite rapper".

Don't miss this show!