Soul'd Out Presents:
NOVALIMA
Wed
November 6, 2019
9:00 pm
PST
(Doors:

8:00 pm

)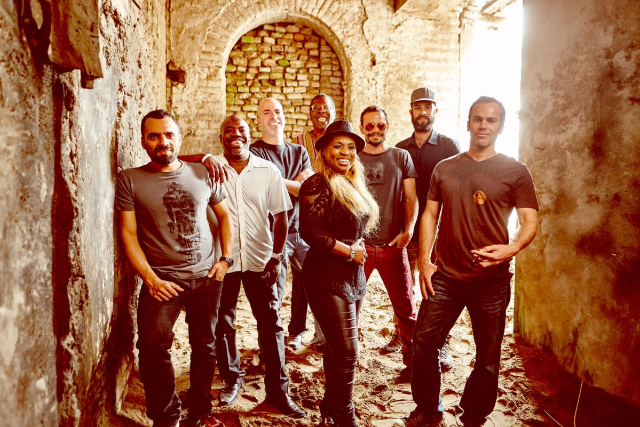 $22.00
"a sweat-inducing live experience that only gets hotter as the night goes on." - Time Out, NY

Started by four friends from Lima with a shared passion for traditional Afro-Peruvian music and global DJ culture, Novalima stands in the common ground bridging past and future, uniting tradition and innovation.

From their humble start, file-sharing musical ideas and producing their first album in separate countries at the dawn of the internet, Novalima is now a live musical force revered worldwide for breaking boundaries and uniting seemingly irreconcilable genres, communities, and generations. They have created an inspiring movement and revolutionized the music scene in their native Peru by bridging a longstanding divide between the mainstream and the minority Afro-Peruvian community, who have struggled against discrimination and cultural dissolution for generations.

During their career, Novalima has garnered worldwide critical acclaim from mainstream (NPR, UK Guardian, Wall Street Journal, La Presse, Metro, Billboard) and underground media (Giant Step, Remezcla, Sounds & Colors, Nat Geo) alike, delivered legendary performances around the world at festivals such as Roskilde, WOMAD, Pirineos Sur, NYC Central Park, Montreal Jazz Festival and Chicago's Millennium Park, earned a Latin Grammy nomination for Best Alternative Album, and were featured in cult filmmaker Robert Rodriguez's hit Mexploitation movie Machete.

While their sound is futuristic and cutting-edge, the roots of Novalima's music reach back hundreds of years. In a far-too familiar tale, African slaves were brought to Peru as early as the 1500s until the middle of the 19th Century, establishing an outpost of the African-Diaspora on the Pacific coast of South America. Over the years, the soul and rhythms of Africa melded with the melodies and instruments of Europe and the Andes. The result is rich musical repertoire that existed for generations on the periphery of Peruvian popular culture.

The founders of Novalima, Ramon Perez-Prieto, Grimaldo Del Solar, Rafael Morales, and Carlos Li Carrillo, became friends and started playing together in Lima during their high school years, playing a pivotal part in the 80s underground hardcore punk, and the 90s psychedelic/acid-rock scenes. As children of artists and intellectuals, Ramon, Grimaldo, Rafael and Carlos were well educated and well traveled, and while they listened to traditional Peruvian folk music regularly in family reunions and in the street, they relentlessly explored new sounds in Rock, Dub Reggae, Latin and Electronic Music, which became grounds for their own discovery.

Taking a year off from touring during 2017, Novalima went back in the studio to explore and experiment with new sounds from Peru. This time around, the influences came not only from its African heritage but also from the exploration of ancient sounds, languages and instruments from the Andes and the Amazon. On this new album called Ch'usay (Voyage in Quechua, the native language of the Inkas) their 2nd release on DJ Nickodemus' Wonderwheel Recordings, Novalima goes one step further to enrich their sound by collaborating with new generations of local artists from the Peruvian music scene.

The release of the new album coincides with Novalima`s 15th Anniversary !