Lose Yr Mind Presents
LSD & The Search for God, Film School, Lorelle Meets the Obsolete
Sun
October 22, 2023
( Doors:

7:00 pm

)
SHOW:
8:00 pm
PDT
Star Theater
13 NW Sixth Avenue, Portland, OR
Ages 21 and Up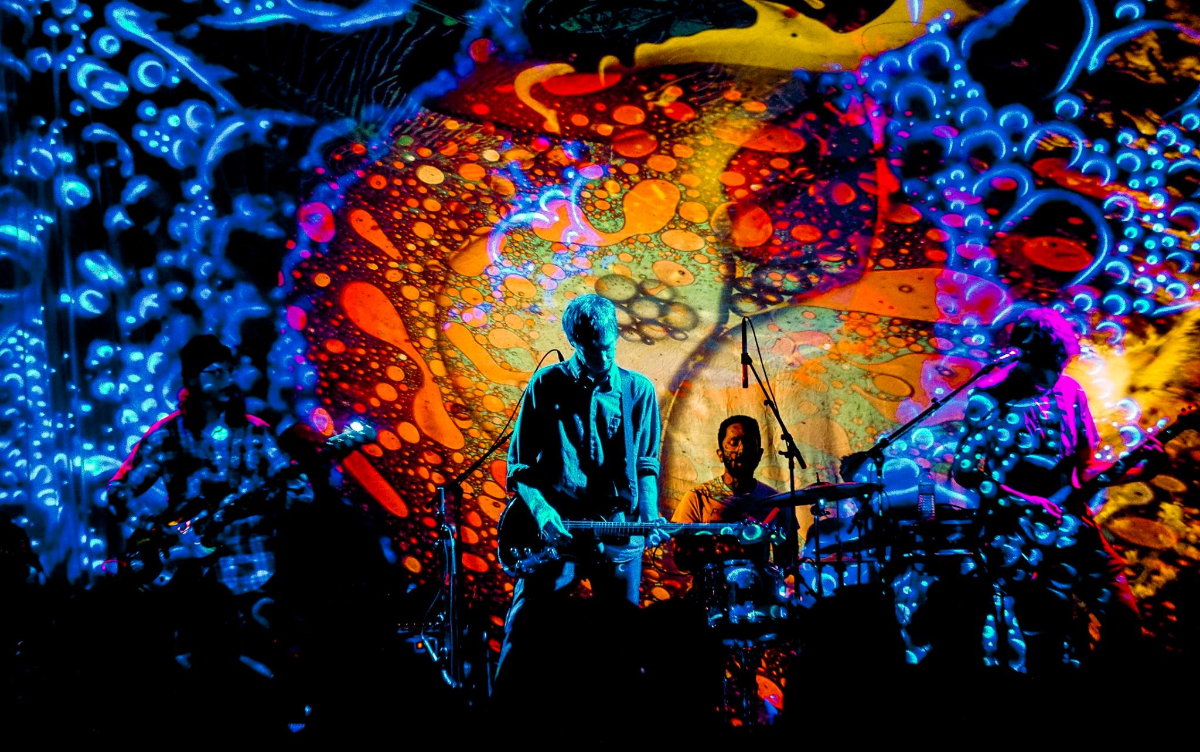 LSD and the Search for God
$20.00
Doors: 7:00pm // Show: 8:00pm // Ages 21+.

LSD & THE SEARCH FOR GOD
LSD and the Search for God hit the Northern California coast in 2005––seemingly from another place and time––dosing San Francisco with hypnotic shows built upon swirling guitars, otherworldly drones, fuzzed-out pop melodies, and dreamy vocal harmonies.
With reviews of early shows and recordings drawing comparisons to My Bloody Valentine, Slowdive, Yo La Tengo, Spacemen 3, and Sonic Youth, the band quickly developed a must-see reputation within the underground psychedelic music scene.
FILM SCHOOL
Indie shoegaze stalwarts Film School return with their sixth full-length release and first for Sonic Ritual, We Weren't Here, the follow-up to 2018's Bright to Death. Whereas the band recorded the previous album while holed up together in the isolated Southern California desert enclave of Joshua Tree, the Covid pandemic forced a different kind of isolation this time around. Already divided between the SF Bay Area and Los Angeles, bassist Justin LaBo, guitarist Nyles Lannon, frontman Greg Bertens, and keyboardist Jason Ruck—each from his own quarantine home studio—had to collaborate on the songs remotely. Except for when newest member Adam Wade met up with Greg to record drums at LA's Headwest Studio with mixer Dan Long (all wearing masks, of course), the bandmates never saw each other in person during the entire making of the album.
LORELLE MEETS THE OBSOLETE
It's a short, sharp shock of a record designed to be played live. Gone are the psychedelic wig-outs of previous releases, replaced with bass-heavy post-punk grooves inspired by the roots of The Congos, the no wave of Ike Yard, the industrial hip-hop of Dälek and the dark modular moves of Hiro Kone, all while harnessing the elemental power of Jon Hassell's Vernal Equinox.
The band formed in 2011 around the nucleus of Lorena Quintanilla and Alberto González and found favour in psych circles with their first two albums (On Welfare and Corruptible Faces). Originally from Guadalajara (they are now based in Ensenada, Baja California), their name was half inspired by a recurring joke in Seinfeld, half by an episode of The Twilight Zone.
LSD & The Search For God
Almost nine years to the day since the release of their first, self-titled EP, LSD and the Search for God does it once again with their blissful new EP, Heaven Is a Place out January 15, 2016, on Deep Space Recordings and Mind Expansion!
In the time between LSD records the band remained busy writing, recording, and performing, with this EP capturing a snapshot in time soon after the additions of Ryan Lescure and Ricky Maymi (Brian Jonestown Massacre). They've been perfecting their lucid live show up and down the U.S. West Coast and on tours across the U.S. and Canada, including sets at Austin Psych Fest Levitation (2013), Bathysphere (2013) with A Place To Bury Strangers, and Desert Stars Festival (2014) with The Dandy Warhols.
LSD twice toured the U.S. with legendary Creation Records band The Telescopes, with Liszt, Fifield, and Maymi doing double-duty each night, performing as members of both LSD and The Telescopes. This collaboration led to The Telescopes recording project in Los Angeles that resulted in two records: the acclaimed EP, Harm (Neon Sigh 2014), and a 7"single, Thrown (Genjing Records 2015).
Over the years, LSD and the Search for God's cult-like following within the underground psych/space/shoegaze community has remained as passionate as ever, and this new EP picks up where they last left off then blasts off for parts unknown.
"Heaven", "(I Don't Think That We Should) Take It Slow", and "Elizabeth" showcase the band at their best swirling, reverb-drenched guitar chords, intertwined with shimmering male/female vocals while "Outer Space" and "Without You" slow it down a bit and throw hazy, psychedelic guitar riffs into the mix. The obvious comparison to the Creation Records sound in its heyday is appropriate, yet LSD have definitely taken that noise and made it all their own.
On the heels of releasing Heaven Is a Place, the trip continues. In addition to more shows across the U.S. and Canada, LSD makes their European debut on a month-long tour in spring 2016, starting with the Cosmosis Festival in Manchester alongside The Jesus and Mary Chain, Wire, and The Raveonettes.
Make no mistake: LSD and the Search for God are here now more than ever and they're ready to solidify their rightful place as the sonic harbingers of blissed-out rock 'n'roll!
Lorelle Meets The Obsolete