Soul'd Out Presents
SOLD OUT! SOULS OF MISCHIEF with Bad Habitat and DJ Klyph
Wed
August 9, 2023
( Doors:

7:00 pm

)
SHOW:
8:00 pm
PDT
Star Theater
13 NW Sixth Avenue, Portland, OR
Ages 21 and Up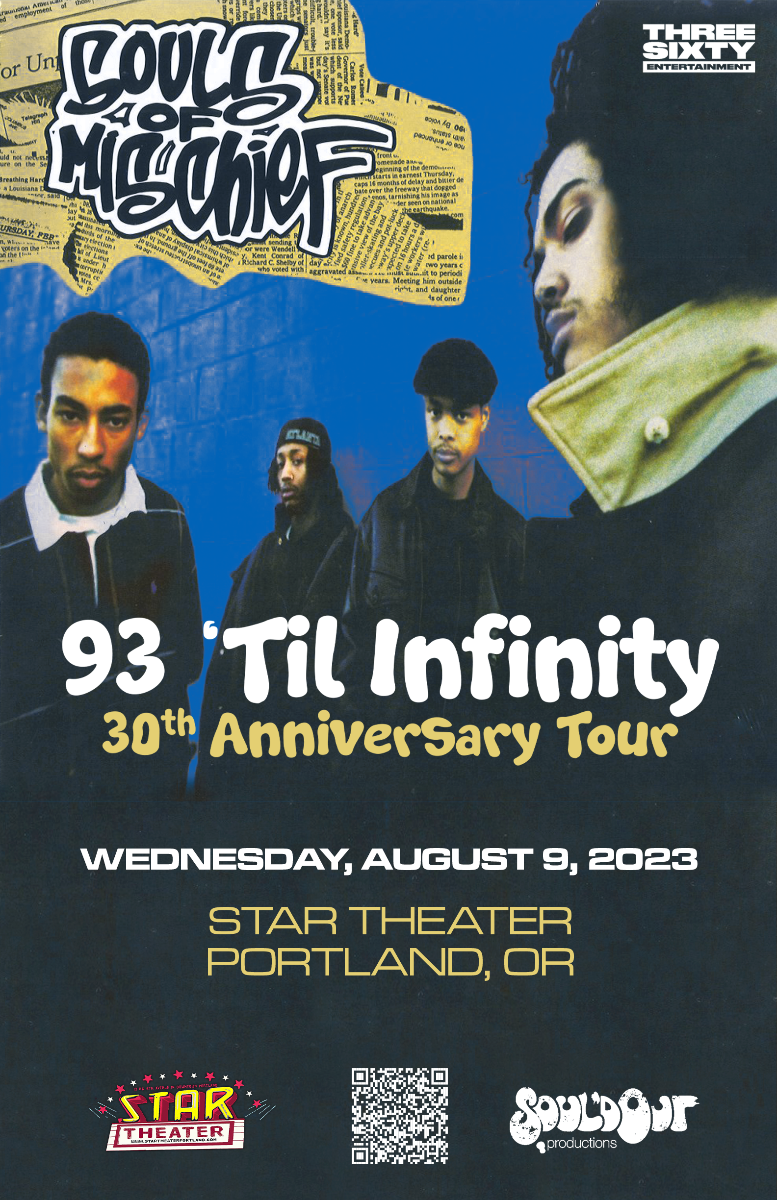 Soul's of Mischief with Bad Habitat & DJ Klyph
$25.00
Soul'd Out Presents: Souls of Mischief
with special guests Bad Habitat & DJ Klyph
Doors: 7:00pm // Show: 8:00pm // Ages 21+.

--- 2023 marks the 30th year of 93 'til infinity! The iconic track and album by Souls Of Mischief.
We will be touring the funky Hip Hop outfit to mark this very special occasion. With shows full of Jazz-funk melodies, throwbacks and mind-blowing lyricism. They'll be available to book with Threesixty Entertainment throughout 2023 - bringing the 90's, true-hop feels to the US, Canada, UK, EU, SEA, AUS, NZ and more!


"Q-Tip was bangin' their records all day" – Phife Dawg, A Tribe Called Quest

Souls Of Mischief played a huge part in the rise of a different kind of Hip Hop. What they did for northern California was so unique to the time, with lyrical skill and dexterity; crazy word plays over Funk and Jazz melodies.. this kind of thing wasn't associated with the West Coast at the time, and Souls Of Mischief brought a whole new sense of vibrancy and fashion to California. With an underground, summer-time feel to their movement, Souls Of Mischief are spoken of so highly within the Hip Hop realms of De La Soul, A Tribe Called Quest, The Pharcyde and Pete Rock and C.L. Smooth – they helped infuse Hip Hop with surf and skate culture, smooth, jazz-fuelled good times, introspection and a fitting representation of living life on the streets of the Cali sunshine, or the San Fran bay area.
-----------------------------------

Bad Habitat
Bad Habitat is the hip-hop equivalent of The Three Musketeers, with the swagger of a young Rat Pack, and a style all their own. Forming early in the summer of 2008, Dru Manchu, Flawless, and Trafek have since stolen hundreds of shows, amassed a loyal fan base, and built a reputation as one of the hardest working groups in Portland, Oregon's ever growing hip hop scene. Intent on making intelligent, yet high energy music, Bad Habitat has developed an aggressive, progressive sound that incorporates real life lyricism mixed with over the top braggadocio and an original flavor of beats (primarily provided in-house by members Flawless and Matt Murdock). Drawing influence from multiple genres, ranging from punk and classic rock to early hip hop, indie funk and 80′s pop, Bad Habitat has created a hybrid of styles rolled into an easily accessible sound that would feel just as natural blasting from a frat party as it would rocking a mosh pit!

" A high-energy rap trio that bounces from carefree bars to intense syllable-play with the dexterity of young Mario, the group is a favorite in Portland's underground rap scene."

Fahiym B. Acuay - The Oregonian

"...this band is amazing. A true show stopper, their three-front attack is unrelenting... Driving with an unequaled momentum this band controlled the stage and had the house enthralled... If you haven't checked out this band do yourself a favor and pop over to their website..."

Mark A. Lawrence IV - By The Light of the Stereo



Although hip-hop at its core, their seamless blending of a wide variety of genres have resulted in a sound that shatters the traditional confines of what constitutes hip-hop, while remaining true and respectful to the roots of the art form. It's pub pop with rap vocals; the perfect soundtrack for a night of intelligent debauchery. From true heads to casual hip hop fans, punk rockers to teeny boppers, Bad Habitat has managed to find firm footing on a previously undiscovered common ground, bridging the gaps between genres that have no rightful place blending together. Yet somehow, they've managed to make it work.