Glow Job
GLOW JOB 14
Sat
April 8, 2023
( Doors:

8:00 pm

)
SHOW:
8:00 pm
PDT
Star Theater
13 NW Sixth Avenue, Portland, OR
Ages 21 and Up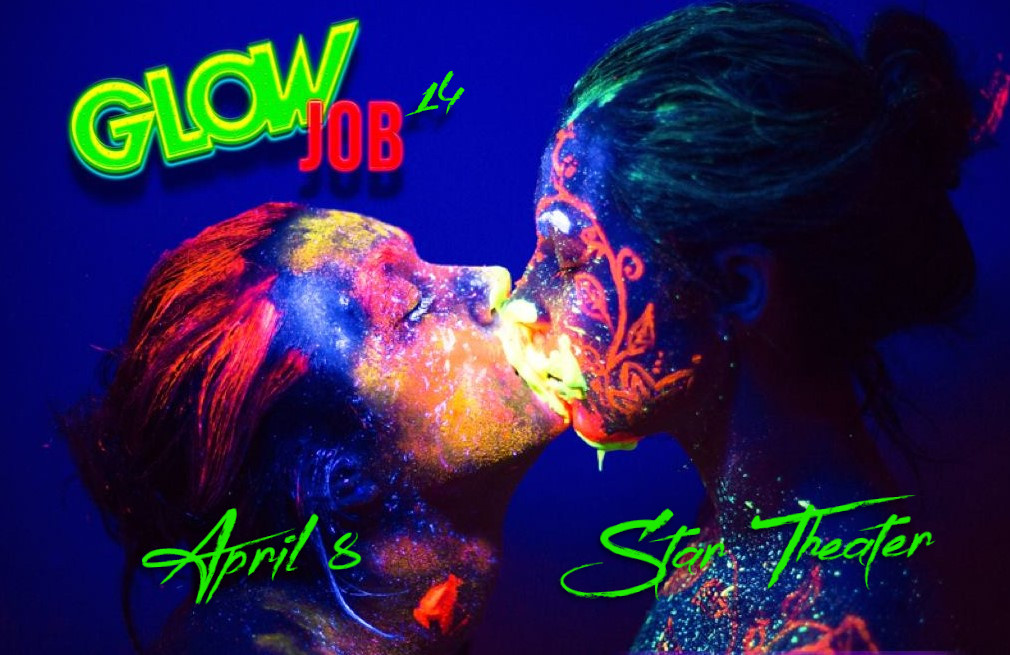 Those that know, glow. Bathe yourself in ultraviolet glory! The world's best black light party returns to Star Theater. This event has sold out for more than a decade. Do not wait on getting tix. YOU MUST DRESS TO GLOW TO GET INTO THIS EVENT!
Prepare for thousands of watts of black light and some of the best costumes ever anywhere. Featuring: DJ Kyle Douglas (Seattle/Distrikt)
DJ The Serious (Portland/Sayulita)
DJ Cake Fvcker (Portland/Slutgarden)
DJ Ernest Ryan (Portland/Wiggles)
DJ Douchebag Assassin (Parts Unknown)
DO I HAVE TO GLOW? Yep. Tickets will not guarantee entry without costume.
WHY DO YOU NEED TO GLOW? While some LED blacklights put out a visible light, most ultraviolet light is invisible until it reflects off a black-light reactive surface. You become the light source.
COSTUME HELP: Experienced glowers will shop with a black light flashlight in hand. Sometimes neon cottons wont reflect while other materials will pop. Another option is to get body painted. We will post merchant deals in the discussion thread.
This event is LGBTQ+, and 21+.
DISCLAIMER: By purchasing tickets, YOU VOLUNTARILY ASSUME ALL RISKS of your willing participation in the event GLOW JOB 13, including all physical, moral and psychological damage. You acknowledge YOU MUST DRESS TO GLOW TO ENTER THIS EVENT and that tickets do not guarantee entry if you do not dress to glow. Failure to dress in a manner befitting the event may prevent entry and that no refunds will be issued if you are in fact too lame to dress for the event. You, the purchaser, and those who receive tickets purchased by you waive, release, and forever discharge and agree not to sue from any and all liability arising from said event, including but not limited to death, public shame, legal issues, data charges, unexpected sexual congress, unintended pregnancy, contact with moving vehicles, stank, any injury, theft or property damage that may occur at or traveling to or from said event, the following entities: Glow Job staff, members and entertainers (hereinafter "The Sponsors"). You hereby waive all claims which you have now or may hereafter have against The Sponsors in any connection with my participation in GLOWJOB 14. You indemnify and hold harmless The Sponsors for any liabilities or claims made as a result of participation in this activity or event. If you do sue: you will lose, agree to pay The Sponsors' court costs and attorneys' fees for any such claim. By purchasing this ticket and attending this event, you are expressly consenting to have photographs and/or videos taken of you at the event for personal and/or commercial purposes, including but not limited to: publication in print media and/or on websites, including social media, or other digital platforms; use by Glow Job, the venue, and/or the photographers or videographers for marketing or other commercial purposes; transmission via mail, e-mail, text message, etc.. You hereby disavow any expectation of privacy from photography, videography, and other methods of audio/visual recording at the event.