Star Theater Presents
THE SLACKERS with Bite Me Bambi and Matamoska
Sun
July 17, 2022
( Doors:

7:00 pm

)
SHOW:
8:00 pm
PDT
Star Theater
13 NW Sixth Avenue, Portland, OR
Ages 21 and Up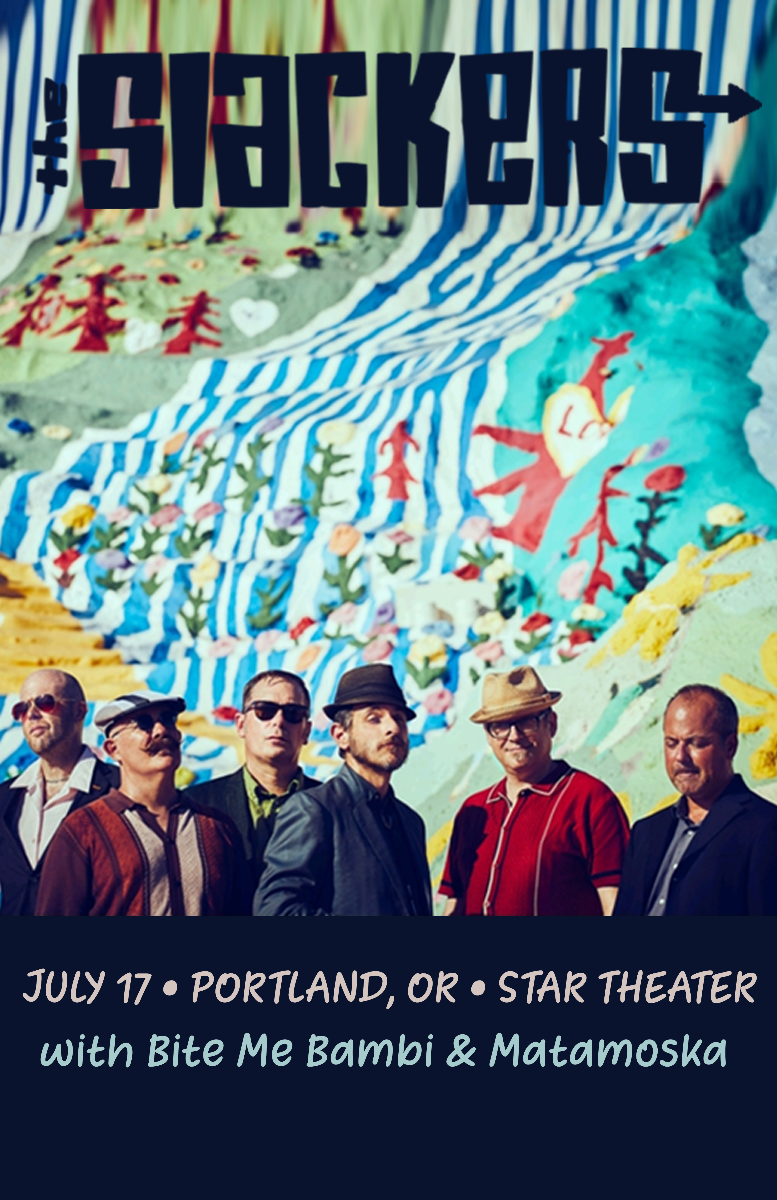 The Slackers with Bite me Bambi and Matamoska.
Doors: 7:00pm // Show: 8:00pm // Ages: 21+.

The Slackers are self styled masters of Reggae, Ska and Rock'n'Roll from New York City.
The Slackers began in 1991 in NYC. After years of local gigs and rehearsing in a dingy basement in Manhattan's lower east side, the band released its debut album, Better Late Than Never, in 1996. The band's success resulted in the release of a second album, Red Light, on the Epitaph label in 1997. Since then the Slackers have released 11 more studio albums (The Question, Wasted Days, Slackers & Friends, Close My Eyes, Slackers in Dub, Peculiar, Boss Harmony Sessions, Self Medication, Lost and Found, The Great Rocksteady Swindle, and The Slackers [self-titled, 2016] ) 3 live albums (Live at Ernestos, Upsettin Ernestos, Slack in Japan), several EPs (International War Crimminal, My Bed is a Boat), and numerous singles and compilation tracks.
Since 1997 the Slackers have played over 100 shows every year in a total of 46 american states, 7 Canadian provinces, 22 European countries, 5 Latin American countries, and 2 Asian countries.
The band's musical style is distinct from their contempories; a mix of early Jamaican music with classic 50's and 60s American styles. There are influences from 50s and 60s Rock'n'Roll, Rythmn and Blues, Jazz and Latin music. Singer Vic Ruggiero has coined the term 'Jamaican Rock'nRoll.' to describe it. He says, "The band might play a classic Jamaican style but the vocals are distinctly American east coast, revealing the obvious connection of Jamaican music to the Doo-Wop of Harlem and the Bronx."