Valourian Theatre & Church of HIVE Presents
Soriah
with
Sun
March 20, 2022
( Doors:

7:00 pm

)
SHOW:
8:00 pm
PDT
Star Theater
13 NW Sixth Avenue, Portland, OR
Ages 21 and Up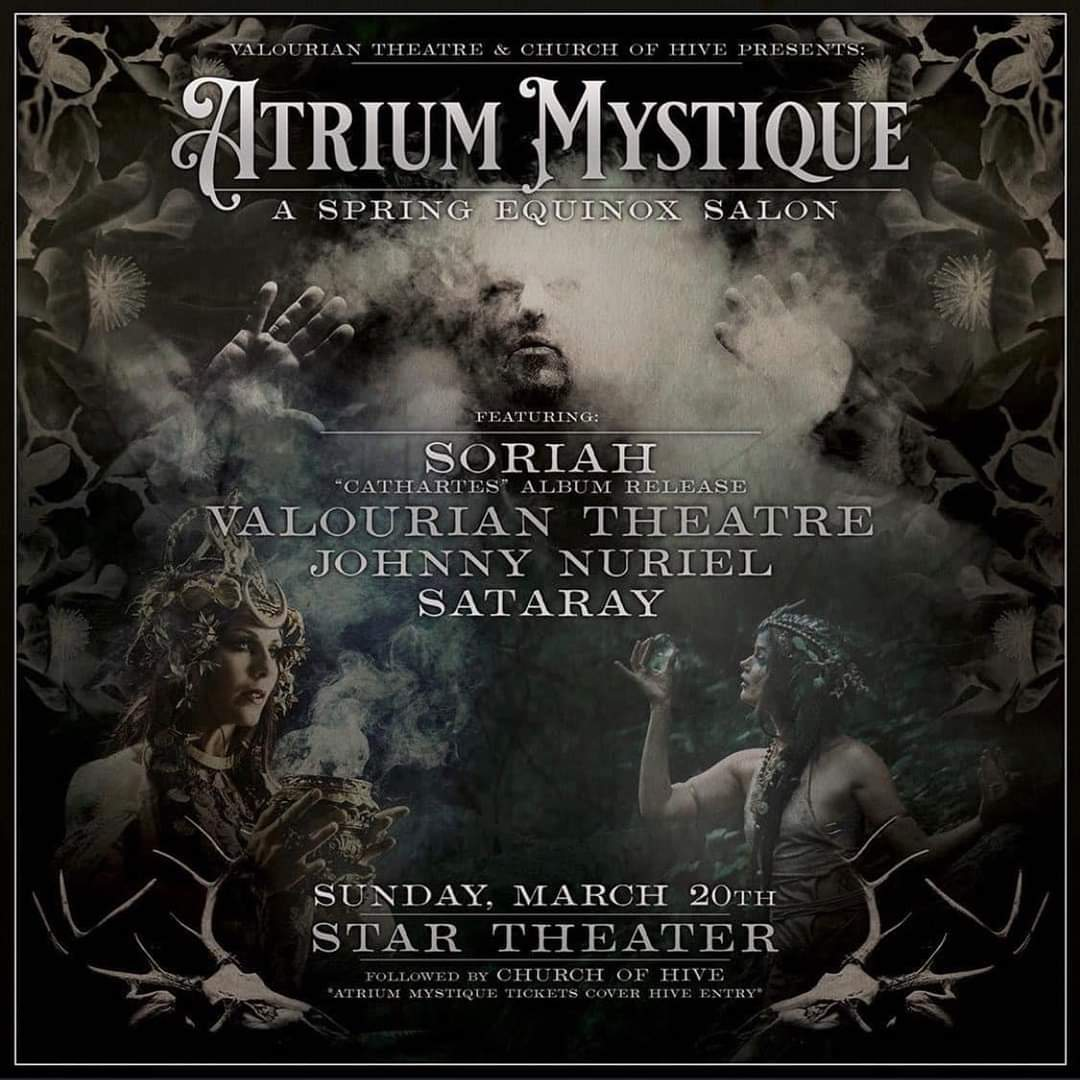 NOTE: for this particular show, THE ARTIST(S) REQUIRE PROOF OF VACCINATION OR NEGATIVE TEST TAKEN WITHIN 48 HOURS OF DOORS, FOR ENTRY to the event. This is not the venue's current policy however we are honoring the requests of the artist.
MASKS ARE NOT REQUIRED inside the venue.
If you cannot comply with this added requirement and have already purchased a ticket, you may request a refund prior to a show.

ATRIUM MYSTIQUE
Spring Equinox Salon
Featuring:
SORIAH
Valourian Theatre
Johnny Nuriel
Sataray
VIP Balcony Seating Available - Includes VIP magical gift baskets!
Followed by Church of HIVE at 11pm (Goth, Industrial, Darkwave)
Atrium Mystique tickets cover HIVE entry
Atrium Mystique is an all-inclusive event and welcomes any and all to join in the celebration of the season, music and the arts! We look forward to basking in the magic with you as the wheel of the year turns and the budding of spring beckons us to glory!
Soriah
Soriah is the stage persona of Enrique Ugalde, a performance artist, instrumentalist and throat singer.
Soriah, which translates as "Pleiades" in Arabic, is the stage persona for the internationally recognized artist, Enrique Ugalde. Soriah's craft is a blending of traditional Khöömei (Tuvan Throat Singing), tempered with Soriah's own visceral force. Performances vary from being steeped in tradition and bound to its constructs to more experimental fascinations with electronic and acoustic accompaniments, and introducing Butoh and Ritual Performance Art. Soriah's use of Khöömei as a transportive medium is an offering to nature in her own tongue, that of organic sound whether it be wind, water or the mimicry of animals.
One becomes encased in an awe-laced ceremonial pallor while in attendance at a Soriah performance. A deep spiritualism imbues each piece performed, whether entirely traditional or exhibiting a fusion of music, movement and meditation that Soriah describes as Vocalized Ritual Drone.