PrePaid Friends Presents
Indigenous
with Purusa
Sat
October 16, 2021
( Doors:

8:00 pm

)
SHOW:
9:00 pm
PDT
Star Theater
13 NW Sixth Avenue, Portland, OR
Ages 21 and Up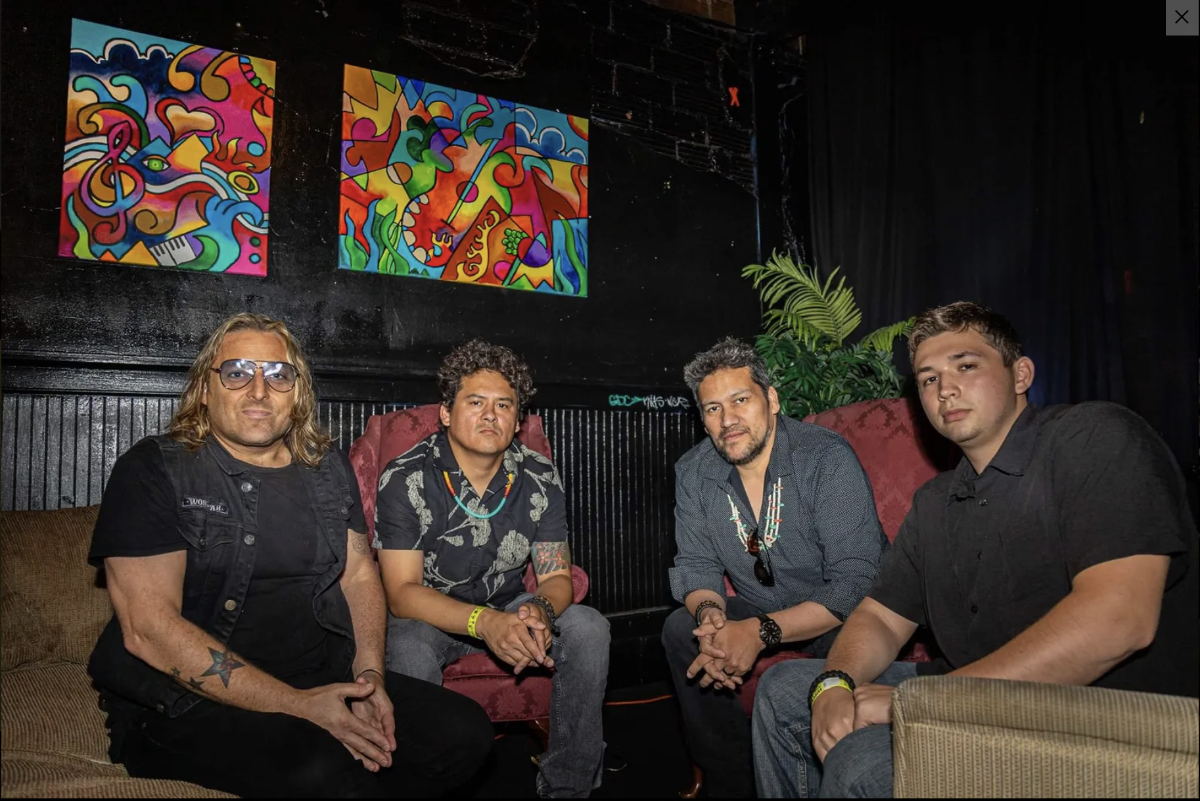 Born and raised on the Yankton Sioux Reservation in South Dakota, Indigenous front man Mato Nanji (Ma-TOE NON-gee) dedicates his work to the indigenous youth and all young people on the indigenous reservations.

Mato, his brother, sister and cousin formed the band Indigenous while in their late teens. In 1998, they released their award winning debut album Things We Do. The title track's video, directed by Chris Eyre (Smoke Signals), won the American Indian Film Festival Award and was shown at the prestigious Sundance Film Festival. Indigenous' music caught the attention of blues icon B.B. King and the young band was invited to play on his annual B.B. King's Blues Tour in 1999.

With momentum gaining, Indigenous' 2000 sophomore release, Circle, was produced and arranged by Stevie Ray Vaughan's longtime friend and collaborator, the late Doyle Bramhall, Sr. Three more cds; Fistful of Dirt (2002), Indigenous (2003) and Long Way Home (2005) would follow before the 2006 decision by the siblings to 'disband' and pursue their own musical paths but Mato carried on with the Indigenous band name. "Playing with my family for 10 years was a lot of fun, but it was time to grow and keep moving forward."

Mato continued touring and in 2006 released Chasing The Sun. Two of the cd's songs, "Come On Home" and "Leaving", were featured on the hit Discovery Channel show The Deadliest Catch. "Come on Home" was also featured on FX's Sons of Anarchy.

On 2008's Broken Lands, an intensely personal record, Mato and Leah, his lyricist and wife, pay tribute to his Native heritage. The album decries the poverty, isolation and reality of life on the reservation with "Place I Know.

Indigenous featuring Mato Nanji (2012) would mark Nanji's debut on the Blues Bureau International label and the beginning of his collaboration with noted producer, Mike Varney. Joining Mato on the disc's opening track "Free Yourself, Free Your Mind" is the soulful Jonny Lang. On it, the two guitar-masters trade vocals and guitar solos. It's truly a blues lover's 'match made in heaven'.

"Mato continues to refine his guitar and vocal vocabularies with each new release and is also expanding his songwriting skills with his wife Leah," said producer Mike Varney of Time Is Coming (May 2014). From the infectious opening track of "Grey Skies"; the Soundgarden/Rage Against the Machine influenced "Won't Be Around No More"; and the gut-wrenching blues of "Don't Know What To Do", and at all points in between, Mato Nanji "tears at his guitar strings, bending and shaking them to within an inch of their life, it is clear that he is no mere copyist. He is a genuine virtuoso..." (Rhys Williams, bluesblastmagazine.com 5/14).

Ultimately, Mato dedicated his 2014 release Time Is Coming, to the Indigenous youth and all young people on the Indigenous reservations. Of the song says Nanji; "still to this day, the struggle continues to just live in peace. Growing up here on the reservation I've seen a lot of broken families...broken homes. I feel our families' "Tiospaye" are the core of what makes us who we are. Now family and its meaning is not as strong as it used to be for our people...almost non-existent. So I send my heart and soul out to the indigenous children having a tough time in their lives and in their homes. This record is inspired by them and made in their honor. I hope for the best for all. Tomorrow is another day."
Purusa
Purusa is an indie rock band, originally formed in 1999 by lead singer Kris Kirkman and guitarist Zach Hinkelman. The band built their reputation over the next 4 years along the West Coast producing two top selling albums for Northwest Artists, and sharing bills with numerous established national performers such as Joe Bonamassa, Glen Phillips, Dada, Chris Whitley, Bernie Worrell and more.

A decade long breakup ended in 2014 with a reunion that inspired the release of the long shelved third album 'Repair' that included the single 'Breaking Down' which subsequently garnered enough airplay to chart at FMQB for 9 weeks peaking at #49 in March of 2016. In August 2016 the band released the EP 'Soundtrack' which generated some minor college radio airplay at 47 stations across the country and helped land a licensing deal.

In 2019 the band released a new full length full album 'Amnesia' which spawned two hit singles on Spotify with 'Julien' generating over 12K streams and 'Memory' over 19K in just over two months. The band has also shared the stage recently with Sponge, Sweet Water and 7Horse.