Monqui Presents
GREAT GOOD FINE OK with Vesperteen
Sat
June 8, 2019
9:00 pm
PDT
(Doors:

8:00 pm

)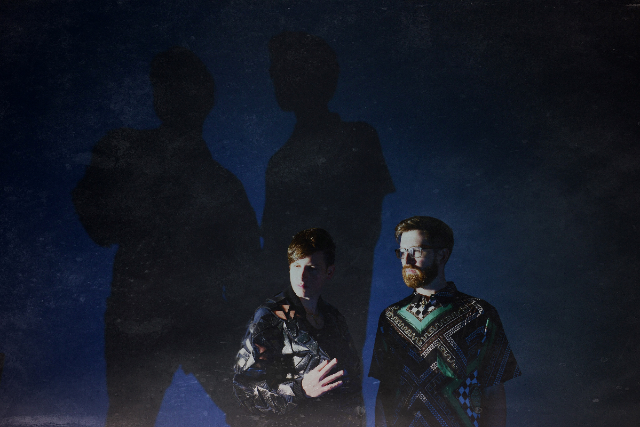 $14.00
Some opposites do more than just attract. Their coupling incites a spiritual big bang of boundless creativity, endless energy, and inspiration of all kinds. Such a union drives Brooklyn duo Great Good Fine Ok.
At first glance, vocalist Jon Sandler and producer and multi-instrumentalist Luke Moellman seem like a study in contrasts. Often clad in space age glittery jackets (or one of "100 kimonos") and bathed in a laser glow, Sandler's voice stretches from singer-songwriter sensitivity to funky falsetto. Something of an aural mad scientist, Moellman quietly draws on nearly two decades of production experience and an expansive arsenal of instruments—ranging from vintage synths, piano, and guitar to drums, vibraphone, and kalimba.
However, it works flawlessly for them…
Within 12 hours of meeting during 2013, the musicians recorded a debut viral and critical hit entitled "You're The One For Me." 2014 saw them release a pair of EPs—Body Diamond and 2M2H. Reaching #10 in iTunes Top Dance Albums Chart, the latter would be highlighted by fan favorite anthem "Something To Believe In" [feat. St. Lucia]. Multiplatinum juggernauts The Chainsmokers tapped their talents for "Let You Go," which Great Good Fine Ok not only co-wrote but also featured on.
After logging countless miles on the road alongside the likes of X Ambassadors, Betty Who, Joywave, and Magic Man in addition to selling out three headline tours and performing at Bonnaroo, 2017 represented a high watermark for the boys. The group's third EP, III, spawned the smash "Take It Or Leave It," which became their fourth #1 on Hype Machine and clocked 16 million-plus Spotify streams in under a year. Simultaneously, they teamed up with Before You Exit for "Find Yourself." A veritable smash, it crossed the 30-million-mark on Spotify in under six months.
Along the way, they garnered praise from Entertainment Weekly, Billboard, and Indie Shuffle who claimed, "I dare you to find another group in the past two years who has been so prolific and consistent with their releases while at the same time delivering some of the most heavenly signature falsetto vocals known to man." Meanwhile, the likes of Twenty One Pilots, Foxes, and more have sought them out for remixes.
2018 represents another evolution. Holed up in a cabin on a Catskill Mountains writing retreat, they made a conscious decision to expand the creative palette yet again on their fourth EP.
Nothing can touch the chemistry between these two either. Fueled by that interplay, Great Good Fine Ok take pop to a new galaxy.

THE NO'S: No cameras, no recording devices, no outside food or beverage, pets, weapons, drugs, alcohol, or illegal substances. No stage diving, No crowd surfing. No refunds.