Beloved Presents
AZAM ALI with Yaima
Fri
May 31, 2019
9:00 pm
PDT
(Doors:

8:00 pm

)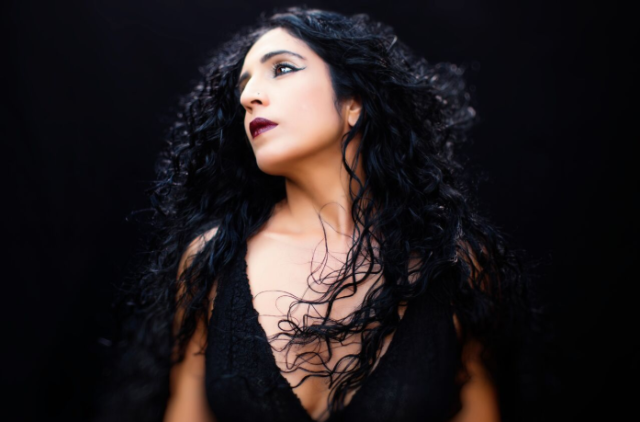 $30.00
Internationally beloved singer-songwriter/producer Azam Ali's award-winning career has been defined by boldly defying genres and commercial expectations to heed her creative instincts. In keeping with this fearless spirit, her latest album Phantoms, is a masterstroke of artistic wholeness and focus. The darkly alluring record is Azam's first self-produced entirely English language album that melds Azam's mystical musicality with gorgeously gloomy electro-pop, adding a whole new dimension to an unconventional artist who has always eluded categorization.
Responsible for every facet of Phantoms from song writing, singing, programming, to production, Azam Ali pushes through the glass ceiling and enters the largely male dominated tech world to join in the ranks of other visionary female electronic musicians and producers who are shifting and shaping the landscape of electronic music.

Phantoms is retro-futuristic album that draws inspiration from electronic and shoegazing music of the 80's and 90's of such groups as Massive Attack, Portishead and Cocteau Twins, combined with influences of moody film soundtracks that combine classical and electronic music. The result is a lush electronic album rife with intriguing layers of rugged beats, synths, live strings, grimy industrial-tinged textures and dirty ambience. This edginess is beautifully offset by Azam's distinct emotive, sensually feminine vocals and her elegant instrumental production choices.
It is an album that is at once melancholic and rapturous, introverted and danceable, dramatic and subtle. Though Phantoms is punctuated with tones of ambient, trip hop and techno, the album withstands any one category of electronic music. This being for the simple reason that Azam Ali continues to stand at the forefront of pushing the sonic envelope and defying genre boundaries.