2019 Biamp PDX Jazz Festival & Soul'd Out Present
SOLD OUT: CHRISTIAN SCOTT ATUNDE ADJUAH with special guests
Wed
February 20, 2019
8:00 pm
PST
(Doors:

7:00 pm

)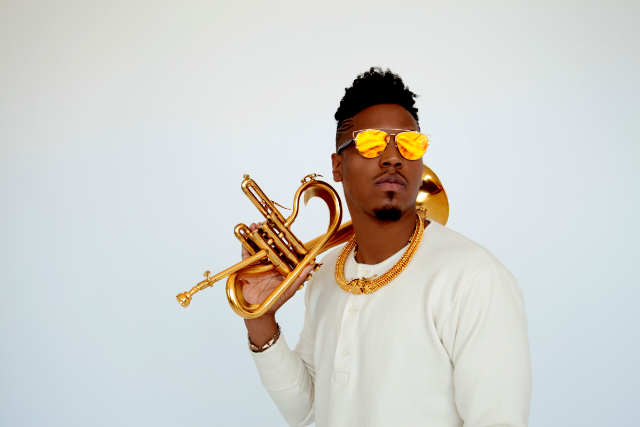 $25.00
Pre-sale tickets will be available starting on Oct 20 at 10AM PST
General on sale tickets TBD
Christian Scott, also known as Christian Scott aTunde Adjuah (born March 31, 1983, in New Orleans, Louisiana) is a two-time Edison Award winning and Grammy Award nominated trumpeter, composer and producer. He is the nephew of jazz innovator and legendary sax man, Donald Harrison, Jr. His musical tutelage began under the direction of his uncle at the age of thirteen. After graduating from the New Orleans Center for Creative Arts (NOCCA) in 2001, Christian received a full tuition scholarship to Berklee College of Music where he earned a degree in professional music and film scoring thirty months later.
Since 2002, Christian has released eleven critically acclaimed studio recordings, two live albums and one greatest hits collection. According to NPR, "Christian Scott ushers in new era of jazz". He has been heralded by JazzTimes Magazine as "Jazz's young style God." Christian is known for developing the harmonic convention known as the "forecasting cell" and for his use of an un-voiced tone in his playing, emphasizing breath over vibration at the mouthpiece. The technique is known as his "whisper technique."
Christian is the progenitor of "Stretch Music," a jazz rooted, genre blind musical form that attempts to "stretch" jazz's rhythmic, melodic and harmonic conventions to encompass as many other musical forms, languages and cultures as possible. Jazz is a progressive musical movement and Christian is at the forefront of its continued viability as an art form. Christian's 2015 release, Stretch Music, marked the partnership between Christian's Stretch Music record label and Ropeadope Records. Critics and fans alike have praised the recording. Stretch Music is also the first recording to have an accompanying app, for which Christian won the prestigious JazzFM Innovator of the year Award in 2016. The Stretch Music App is an interactive music player that allows musicians the ability to completely control their practicing, listening and learning experience by customizing the player to fit their specific needs and goals.
In 2017, Christian released three albums, collectively titled The Centennial Trilogy, that debuted at number one on iTunes. The albums' launch commemorated the 100th anniversary of the first Jazz recordings of 1917. The series is, at its core, a sobering re-evaluation of the social political realities of the world through sound. It speaks to a litany of issues that continue to plague the collective human experience, such as slavery in America via the Prison Industrial Complex, food insecurity, xenophobia, immigration, climate change, sexual orientation and gender inequality, fascism and the return of the demagogue.