STAR THEATER
BLOCO ALEGRIA 3rd Annual Equinox Carnival
Sat
September 22, 2018
9:00 pm
PDT
(Doors:

8:00 pm

)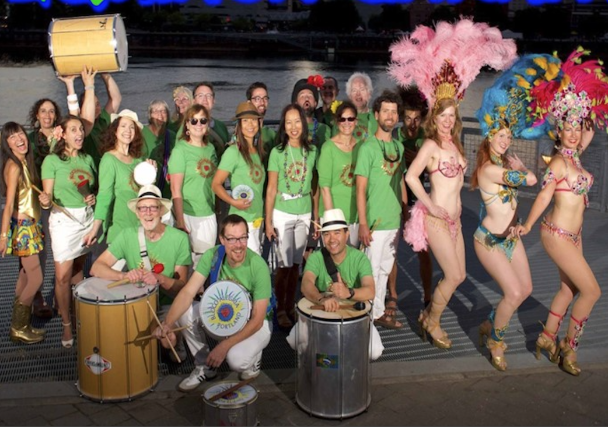 $15.00
Bloco Alegria presents the 3rd Annual Equinox Carnaval
Bloco Alegria, Portland's own Rio-style samba band, invites you to celebrate the changing of the seasons with an electrifying evening of vibrant sights and sounds! Our Bloco will be joined by many special guests, including master percussionist from Rio de Janeiro, Eduardo "Dudu" Fuentes! Dudu has been working with Bloco Alegria over the last six months, culminating in this exciting night to remember!
More about Dudu Fuentes: Master percussionist Eduardo "Dudu" Fuentes is one of Rio de Janeiro's foremost percussionists, and a very popular instructor at California Brazil Camp which is held every year in Cazadero, California. As former director and principal arranger of the popular Carnaval bloco, Bangalafumenga, Dudu is recognized for creating percussion arrangements that have breathed new life into Brazilian rhythms. Dudu's unique style of adapting folkloric Brazilian rhythms like ciranda, côco, maculelê and ijexá for samba bateria instruments has taken him around the world teaching workshops in Europe, Asia and the United States. Formerly a member and teacher for the award-winning group, Monobloco, Dudu currently teaches and arranges for his new bloco, Batucalacatuca (BaTUcalacaTUca). He also is part of Du Rio, a band created along with other members of Monobloco. When Dudu is not working with his blocos, he parades in the baterias of various Rio samba schools including São Clemente, Imperio Serrano and Portela.
More about Bloco Alegria: Bloco Alegria is Portland's own Rio style samba band. Playing the heart-pumping rhythms of Rio's carnaval parades is what gives this band its unique sound and vibrancy. Composed of around 30 people who love samba and other Brazilian music, Bloco Alegria celebrates the music, dance, and culture of Brasil.