Soul'd Out Presents
ANUHEA 'All is Bright Tour' with Kimie Miner & E.N Young
Fri
December 8, 2023
( Doors:

7:00 pm

)
SHOW:
8:00 pm
PST
Star Theater
13 NW Sixth Avenue, Portland, OR
Ages 21 and Up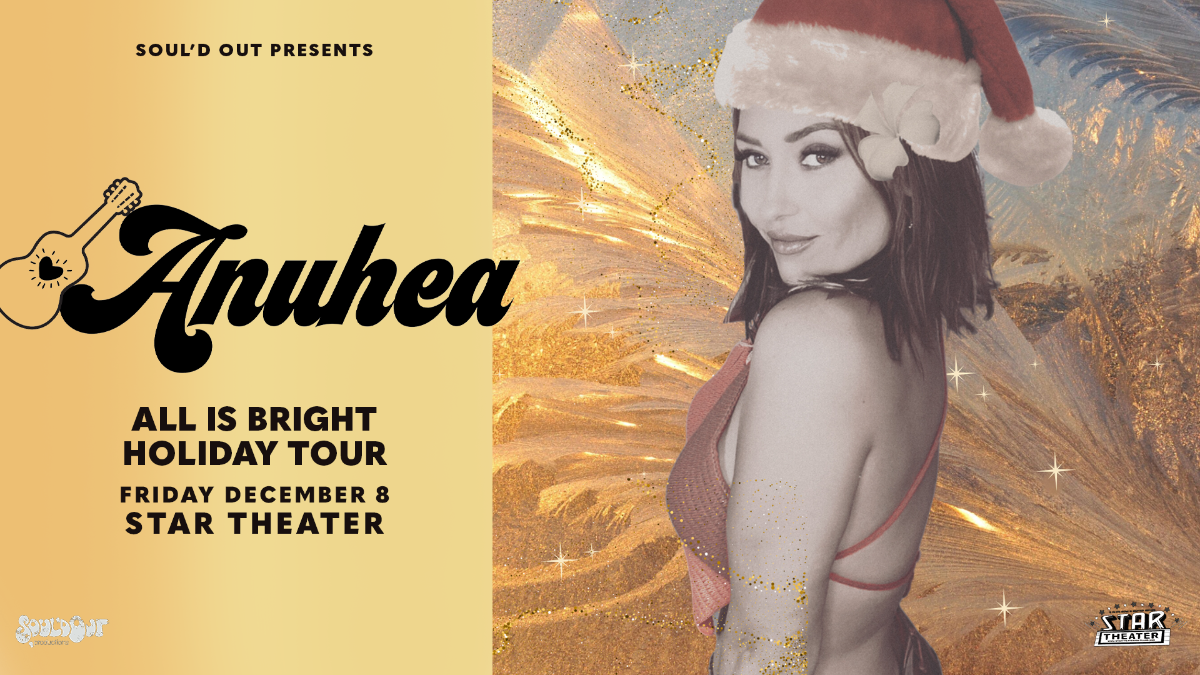 Anuhea 'All is Bright' Tour with Kimie Miner, E.N Young
$25.00
Soul'd Out Presents:
Anuhea - All Is Bright Tour - with special guests Kimie Miner & E.N Young & Imperial Sound.

Doors: 7:00pm
Show: 8:00pm
Ages 21+

The name "Anuhea" translates from Hawaiian as a cool upland fragrance. In the world of island/reggae music, Maui songbird Anuhea Jenkins has been JUST that: A cool breeze to the island music scene. This multi-talented artist beautifully blends reggae, pop, R&B, rap and country music into an eclectic style all her own. Anuhea has earned multiple prestigious Na Hoku Hanohano Awards as well as the iHeart Radio Island Music Award for Female Artist of the Year in 2019. A proud advocate for mental health and education Anuhea is the host of the "Just Keep Jamming" podcast, and the founder of the "Aloha Always Foundation" scholarships. Her work ethic is paralleled by her fun-loving personality, and is a self proclaimed "cool mom" to her son Ikena. She has shared the stage with artists like Bruno Mars, FloRida, SOJA, and Brett Young just to name a few, while performing throughout Hawaii, the U.S. and internationally. With 15 successful years in the music scene, dozens of hit songs and multiple awards, Anuhea remains humble when she's rightfully referred to as one Hawai'i's top female musical artists of all time.
Anuhea
Anuheake'alaokalokelani Jenkins (Anuhea) was born in December 1985 on the island of Maui in Hawaii.

A self-taught guitarist and song writer, Anuhea began showcasing her talents while boarding at Hawaii's famous Kamehameha Schools in Honolulu. "We would print out guitar chords to Bob Marley and Jack Johnson songs at school then skip water polo practice to go back to the dorms and jam them. Once I got the basic idea of guitar I then started writing my own songs." Anuhea enjoyed the spotlight. She was the head anchor for the daily campus-wide news, hosted a variety of TV shows for local television stations, and acted in school musicals.

After attending film school in Orange County California for a year, Anuhea realized she wasn't heading in the direction she was most passionate about, music. So she abandoned her scholarships and embarked on a soul-searching odyssey to Australia for 3 weeks. She returned to the islands and immediately got into the scene, performing at a local coffee shop. These gigs turned into paid restaurant gigs and she eventually put a band together using friends from around the island.

Anuhea descends from Hawaiian, Chinese, German and Welsh ethnic backgrounds. In 2006 she competed for a crown in the Miss Maui Scholarship Pageant, the preliminary to the Miss Hawaii and Miss America Pageants. Not the pageant-girl cliche by any means, Anuhea embraced the challenge of the pageant and performed an original song "I Just Want You Around" for the talent portion of the competition. She walked away with a trophy for Miss Congeniality and 2nd Runner Up. "I thrive off of challenges. I had hit a point where I was pretty stagnant, and I had some student loans I really wanted to pay off. Plus you see pageants on TV as a kid, and I just always wanted to try to be that girly girl for once in my life."

Anuhea's musical and performance skills continued to improved with every performance, and successes came steadily. She took the initiative to market herself as a musician initially acting as her own manager, booking agent, music producer and distributor. Anuhea even took recordings from a live taping for a public radio station and turned them into her first real demo CD "Rough Cuts" which through her myspace page got her discovered by manager / record label co-owner Warren Wyatt.

A naturally gifted songwriter, Anuhea's word choices are a clever balance of emotions where each song tells a unique story, each story a lesson learned."I'm influenced highly by R&B and Soul, Hip Hop and Funk, but my instrument is acoustic guitar. I tend to write most of my songs during the craziest parts of my life. I'll write pages and pages in my notebook in no order then go back with my guitar in my hands and sing the words as lyrics to some chords. That's how most songs start for me." Anuhea wants to be a part of a new generation melding the melodic traditions of her island upbringing with modern beats and influences.

Music has been in Anuhea's family for generations, so it was inevitable that her seeded passions would reflect the same. Anuhea's father is from the North Shore of Oahu in the surfing culture of Haleiwa. His younger sister, Nalani is a founding member of the most popular female group in the history of Hawaiian Music, Na Leo Pilimehana. Anuhea's mother, an Oregon native, comes from a musical family as well, her father is a popular country guitarist.

Anuhea has shared the stage with Bruno Mars, Babyface, Al Green, FloRida, Hoobastank and Pepper. She and her band have toured Japan and Guam with the Armed Forces Entertainment Tour for the troops and their families. She had official showcases at South by Southwest (SXSW) music festival in Austin Texas in 2009 and 2010. Anuhea headlined the national 2010 Right Love Tour, and the 2010 Surf Roots Tour along with iTunes Best Reggae Album of the Year recipients, The Green.

In April 2010 Anuhea performed alongside Jack Johnson, Ziggy Marley & Taj Mahal at the sold out Kokua Festival at the Waikiki Shell. She went on to win 2 Na Hoku Hanohano Awards (Hawaii's version of the Grammy's) for Contemporary Album of the Year and Most Promising Artist. Anuhea continued recording hit radio singles and touring throughout 2010.

In 2011 Anuhea and band performed the Half-Time show at the NFL ProBowl at the Aloha Stadium. In March she went went on a trip to New Zealand as part of the Mana Maoli Collective. Mana Maoli is a non profit organization that brings funds and awareness for Hawaiian charter schools in Hawaii, the Mana Music program, and the Kane Hunamoku voyaging canoe program. The Collective is an all-star band featuring a artists and musicians from Hawaii's top acts. The lineup included artists like John Cruz, members of Natural Vibrations, Kapena DeLima of the legendary Kapena, percussionist Lopaka Colon, and more. The band and hula dancers represented Hawaii at festivals like Pasifika and WOMAD, and gave workshops and classes throughout the schools of Aotearoa.

In summer 2010 Anuhea hit the road again with artists Mishka and Mat. McHugh of Australia's The Beautiful Girls on an all-acoustic tour across the US and into Canada. Along the way, Anuhea was writing the songs for her sophomore album. Ever the opportunist, Anuhea saw the opportunity to do something productive during some downtime before soundcheck in New York City. With her manager behind the iPhone video camera, Anuhea walked the streets of New York, her ukulele in hand, lip synching to her newest song "Simple Love Song". An 8-hour edit on iMovie later... the music video for "Simple Love Song" was created. It has almost 1 million views and became Hawaii's #1 song of the summer. The tour, the single, and the video were a taste of what was to come with the new album from Hawaii's sweetheart.

During the recording process, her radio successes in Hawaii caught the attention of Jacob Hemphill, lead singer of the reggae chart toppers SOJA out of Arlington, VA. After a few phone conversations and song writing sessions via skype, their vibes worked together sweetly and Jacob ended up penning a song for Anuhea's album called "Its Not The Same". Shortly thereafter, Anuhea went to the East Coast for some serious songwriting with the reggae band. Jacob and Anuhea wrote and recorded a duet titled "Easier" which will be released soon, as well as an Anuhea version the SOJA song "Losing My Mind". When finding an opening act for their sold-out "Strength to Survive Tour", of course SOJA chose their new friend Anuhea. The tour started in Hawaii and finished at a sold out House of Blues in San Diego, with Anuhea getting called back on stage to sing "You and Me" with Hemphill and the boys every night.

Her album "For Love" was released on iTunes on Valentines Day, Feb 14th 2012. Amidst the Grammy's and the Whitney Houston passing, "For Love" still managed to hit the #20 spot on the ultra-competitive Pop Charts on iTunes. Its physical release was on March 13th, and with 5 radio singles in rotation in Hawaii, it quickly became the #1 album in the islands.

Universal Fontana distribution has Anuhea's album available in most Walmarts on the West Coast, and iTunes has Anuhea "For Love" available internationally in every single country.