Star Theater Presents
CANCELED: STAR GIRLS
Sat
May 6, 2023
( Doors:

7:00 pm

)
SHOW:
8:00 pm
PDT
Star Theater
13 NW Sixth Avenue, Portland, OR
Ages 21 and Up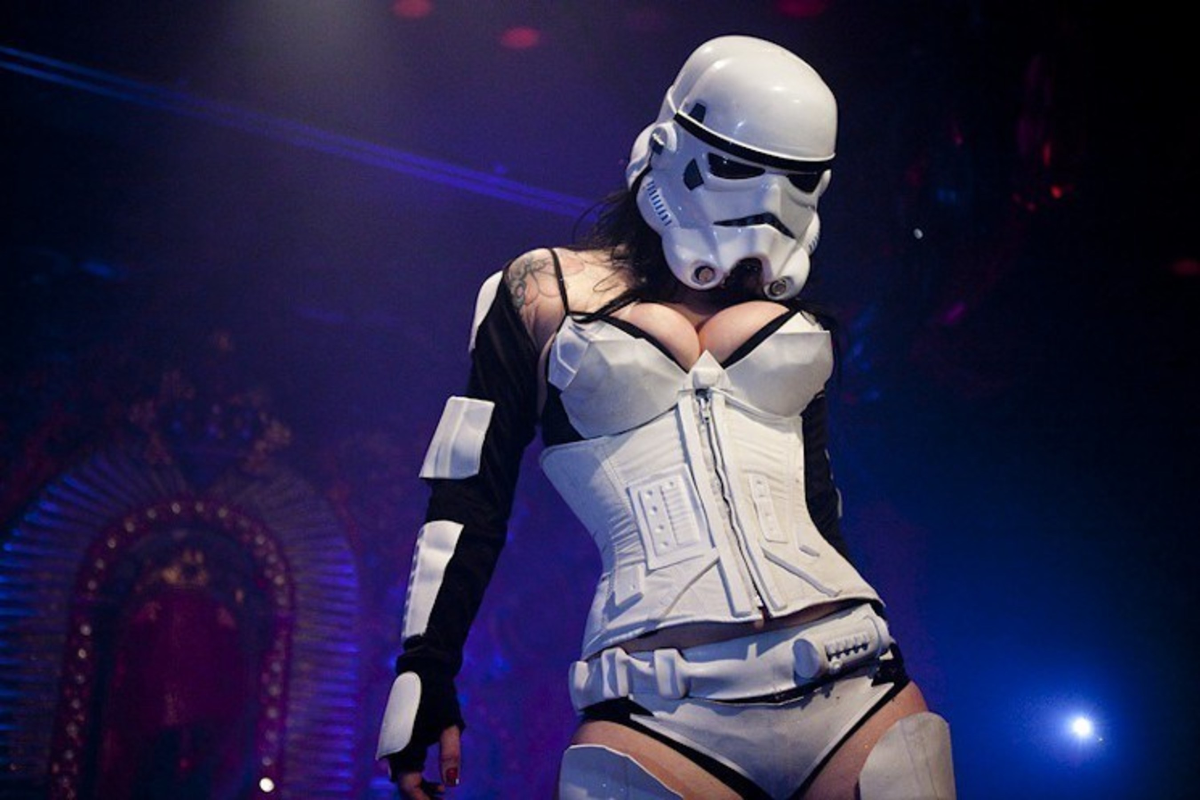 Star Girls: A Star Wars Burlesque
$35.00 - $40.00
Doors: 8:00pm // Show: 9:00pm // Ages 21+. Seated event, GA Seating + GA Premium seating available.

" Celebrate Star Wars day the right way with this immersive experience , parody driven stage production from a galaxy far far away…..
Courtney Cruz Productions , the creative mind behind Star Girls Burlesque may call Hollywood their home but the shows notoriety reaches far beyond Tinsel Town. They have the distinction of introducing the world to the original Star Wars Burlesque Parody now titled, "Star Girls" in January 2010 . The show was the spark that ignited the fire, that changed the face of burlesque by introducing the world to its first live "Cosplay-Burlesque and Cabaret " show. Even before the Star Wars burlesque show hit the internet , Courtney's productions were already notorious for their " Nerdlesque " themes ." Comic Book Vixens" and " Video Game Girls " character themed shows were first infused with striptease by Courtney's production company starting in 2008 . LAWeekly and G4 TV quickly took notice and began covering all of our nerdy themed shows as news on their websites . Burlesque shows globally have adopted the creative concept of combining burlesque with such beloved pop culture characters to bring fantasies to life.
LA Weekly's image of the sexy stormtrooper lit up the internet going viral in 24 hrs and literally ending up on hundreds of websites , tv shows and magazines just days after the first performance Star Girls became the group that inspired other burlesque shows all over the world to create parody striptease performances based on the most popular franchise in entertainment and pop culture history.
After ten years of sold out performances all over California at :House of Blues Sunset Blvd , Music Box Theater Hollywood , The Riverside Municipal Auditorium, Horton Grand Theater San Diego, Club Ember Anaheim , Yost Theater Santa Ana, Dragonfly Bar Hollywood , DNA Lounge San Francisco , The Orleans Hotel Las Vegas and the historical Globe Theater on Broadway in DTLA . The first stop on the shows Pacific Northwest tour will be at the Tower theater in Bend on May 4th before heading to Portland's Star Theater May 6th 2023.
Star Girls is a cast of top shelf female entertainers which include award-winning pole athletes , contortionists ,ballerinas , pop lockers , professional trained dancers , choreographers , a violinist , guitarist and some of the finest bump and grind queens well versed in the art of undressing. We have become known for our high production value as our goal is to create an experience for people , not just a show . Use of custom designed video projections accompanied by custom made large scale props sets our long running show aside from the others . We are not your average strip show !
"May the fourth be with you ..."
and prepare for " Revenge of the Sixth in Portland! "
For more info follow their BRAND NEW Instagram page
@stargirlsburlesqueofficial
DISCLAIMER - THIS IS A PARODY/SATIRICAL PRODUCTION. DISNEY/ LUCASFILMS /LUCAS LTD AND ITS CHARACTERS ARE REGISTERED TRADEMARKS OF DISNEY/LUCAS FILMS /LUCAS LTD.THIS PRODUCTION AND IS IN NO WAY SPONSORED, AFFILIATED OR ENDORSED BY DISNEY/LUCASFILMS /LUCAS LTD OR ITS SUBSIDIARIES , OR AFFILIATED COMPANYS AND OR THIRD PARTY LICENSORS.