HUNTER : PRESENTS
Monstro Menagerie
with
Mon
June 13, 2022
( Doors:

7:30 pm

)
SHOW:
8:00 pm
PDT
Star Theater
13 NW Sixth Avenue, Portland, OR
Ages 21 and Up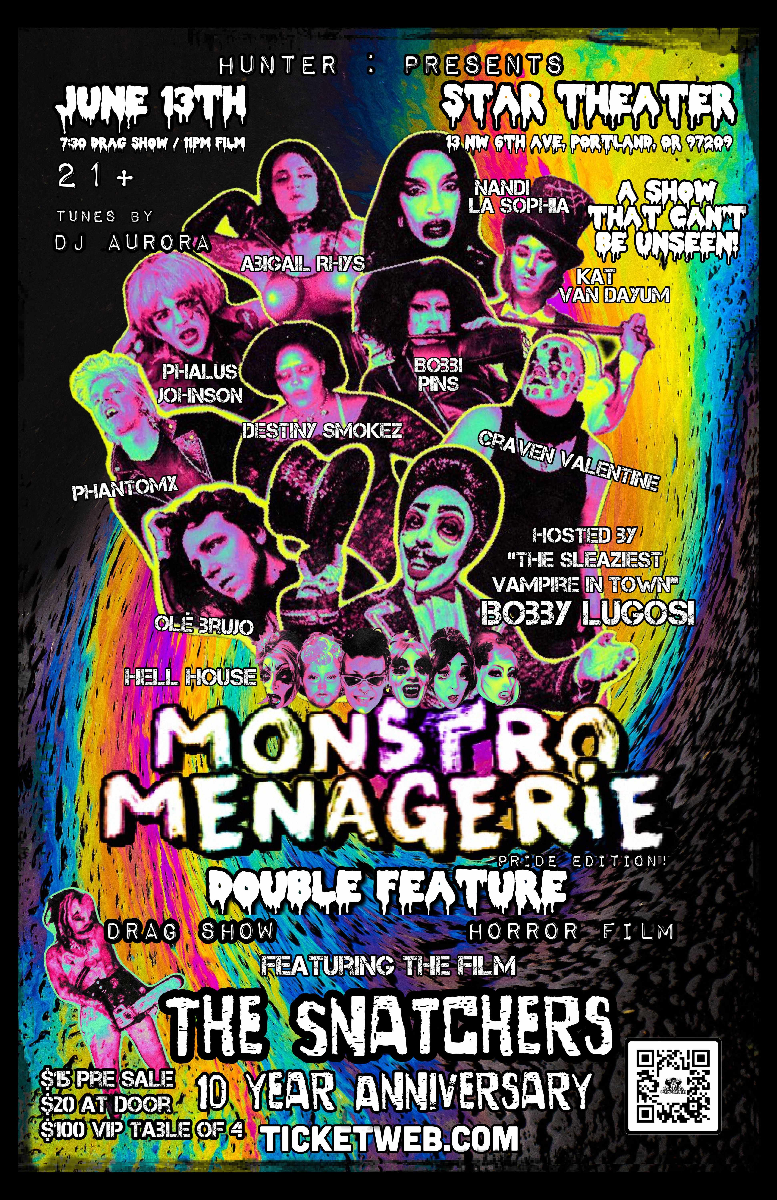 Deep in the heart of Portland's Old Town lurks a terror that knows now bounds! Is the historic Star Theater home to a brood of blood-sucking fiends? What do you feed Frankenstein? Does your conjoined twin make You want to dance? Does a Satanic cult of queer assassins live outside your town? Find out the answers and more at Monstro Menagerie, 7:30pm, on June 13th, at the Star Theater.
Monstro Menagerie is a dreadfully frightful drag show presented to you by Dean Hunter the creator of Oregon's longest running goth night, CHURCH OF HIVE, and hosted by "Portland's favorite Manpyre," Bobby Lugosi! The Menagerie's stage show is a fang-tastic showcase of some of Portland's finest Drag Creatures.
Featuring performances by::
PhanTomX
Phallus Johnson
Nandi la Sophia
Abigail Rhys
Destiny Smokes
Craven Valentine
Kat Van Dayum
Olé Brujo
Bobbi Pins
And
Hell House
But wait… it's a DOUBLE FEATURE!!!
In the tradition of the old ghosts and horror shows of the the early 20th century, we will be presenting a feature film at 11pm.
For this instillation of Monstro we are proud to show you, for the ten year anniversary, Portlands very own cult classic, "The Snatchers!"
"Outside a small, typical American town, an elusive cult of demon worshiping gender queer assassins live in infamy, awaiting the day their savior will return to Earth & end the Gender Binary. Within the context of an avant-garde horror film, we examine cinematic stereotypes and exploit them to our darkest advantage. This film was made over two summers in Portland, Oregon by a group of young artists as an exercise in trust & complete collaboration. The Snatchers! is a document of a life-changing work for all involved."