SEVEN CAKE CANDY PRESENTS
THE ARSENIC BALL featuring performances by Seven Cake Candy and May Ray followed by HIVE Dance Party!
Sun
February 16, 2020
7:30 pm
PST
(Doors:

7:00 pm

)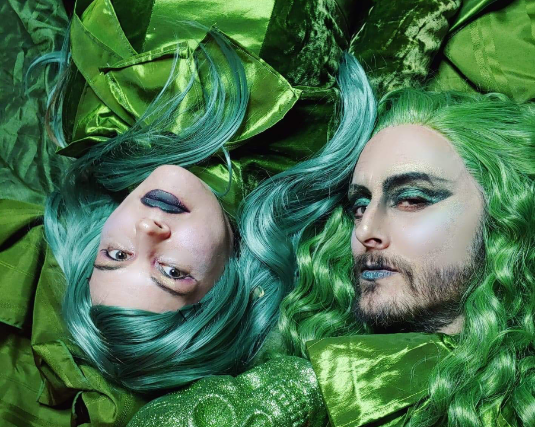 $13.00
Back in Ye Olde Victorian times, FASHION was extremely important. Colors were expensive and fashion dictated what you wore. Green was a hard pigment to come by. In 1775 a new green dye was finally invented. It was all the rage, and called Paris Green. It was, unfortunately, made from Arsenic. It became all the color de rigueur and was used in everything from clothing, to wallpaper and home textiles. People loved it, even though MANY got really sick from the dye and died. These were The Fashions that Kill! We wanted to harken back to a time when things were simpler, and fears were too. We want everyone to come for the night and enjoy themselves. Deck your self out in GREEN!! There will be PRIZES for the best COSTUMES.

We will have a photographer onsite with a Luscious Backdrop and set, and you can purchase a photo for yourself and friends.

There is a myriad of ENTERTAINMENT!!!! Two Bands. Burlesque numbers, and drag shows.

Opening the show is Portland's own May Ray. A dreamy rock-pop trio.

Jackie Hell - Jackie Hell is an aging, minor, practically unknown actress. You can find her yelling at traffic on Aurora Avenue in Seattle. Her game show money doesn't even keep her in hairspray.

Svetlana Trantastic - Our Lovely Hostess. Svetlana Trantastic is the current reigning "Queen of Portland Comedy Drag" and cohost of "The Last Laugh," a local comedy competition in its third year. She also hosts America's favorite bathtime interview show "Bath Time with Auntie Svetty" on YouTube.

Miss Thrustmore - Miss Thrustmore is a former latchkey kid raised by I Love Lucy, The Carol Burnett Show, and Elvira Mistress of the Dark, little Miss had no choice but to become a comedic force with a killer twist in her own right. Even though she failed the only sewing class she ever took, Miss Thrustmore grew up to be a brilliant costume designer. Her skills caught the eye of burlesque greats and thus found herself at home among her fellow rhinestone addicts. It has been several years since her first taste of burlesque but since she has gone on to produce several sell out shows, teach act development and costuming at the Rose City School of Burlesque, and continue to hone her skills as a dynamic stage performer.

Zora Phoenix - Zora Phoenix is a Portland-based burlesque production powerhouse, producing two monthly burlesque shows with a goal of bringing incredible burlesque to Bridgetown since 2009 with an emphasis of the diversity and variety in the art of striptease. In addition, she is the Executive Director of the Rose City School of Burlesque, as well as founder and web-mistress of BurlesquePDX.com.

Wolfgang X - Wolfgang X is Portland's PREMIER middle aged teen model. Gracing covers of Delia's, Teen Vogue, and Readers Digest. They are also a professional widower with five husbands dying of mysterious deaths.

Seven Cake Candy - Portland's own drag pop power band, original music, soaring vocals, costumes to die for, and songs to dance to, Seven Cake Candy have been playing the PNW for 5 years and entertaining thousands.

Danny Diess - Will be spinning some of your favorite tracks as well, the whole spectrum of good dancy dark and fun music. He's got it ALL!